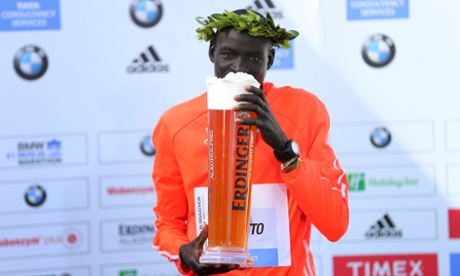 To win a race, they say, you have to beat everybody who shows up on the day, but to set a world record, you have to beat everybody who's ever shown up. Today at the Berlin Marathon, Kenya's Dennis Kimetto did both as he blazed his way to a marathon world record of 2:02:57.

As it turned out, he had to run a world record to beat everyone who showed up, as fellow Kenyan Emmanuel Mutai, running 2:03:13, also dipped below the previous best mark.

Kimetto's run carved a whopping 26 seconds off Wilson Kipsang's previous world record – a second for every mile of the race, which was held in near-perfect cool and sunny conditions on the pancake-flat streets of the German capital.

Kimetto and Mutai also finished 1-2 at last year's Chicago Marathon, where Kimetto set the course record of 2:03:45 and Mutai was second in 2:03:52. His time also removes an asterisk from the marathon record books. At the 2011 Boston Marathon, Geoffrey Mutai ran 2:03:02, faster than the world record, but ineligible for record purposes because of Boston's point-to-point course and too-great net elevation loss.

Kimetto's run today surprised many, but not the man himself. After all, the 30-year-old had told anyone who would listen earlier this week that yes, he would break the world record, once the weather and the pace-making were good.

It was a confident prediction from a man so quiet and humble that it made everyone immediately sit up and take notice. After all, it was only a few years ago that Kimetto's life didn't appear destined to amount to much more than continuing his work as a hard-working subsistence farmer in Kapngetuny, Kenya.

Kimetto began training seriously only in 2010 after a chance encounter with New York City and Boston Marathon course record holder Geoffrey Mutai, who invited him to join his training group. It was two years later – at the Berlin Marathon in 2012, when Mutai took a 1-second victory over Kimetto – that the world first learned of his true ability. It was a talent that one day seemed destined set a marathon world record, and all those around him knew as much.

For more details, just visit this site:
http://www.runnersworld.com/races/dennis-kimetto-breaks-world-record-at-berlin-marathon